Home / News /
Company News
Wenzhou Donnor Exhibition Co., Ltd. was awarded the title of Wenzhou Key Cultural Enterprise
Recently, in the "Notice on the List of Key Cultural Industrial Parks, Cultural Creative Districts, Key Cultural Enterprises and the Third Batch of Growth-oriented Cultural Enterprises in Wenzhou in 2021-2022" issued by the Publicity Department of Wenzhou Municipal Committee, Wenzhou Donnor Exhibition Co., Ltd. was successfully selected as a key cultural enterprise in Wenzhou.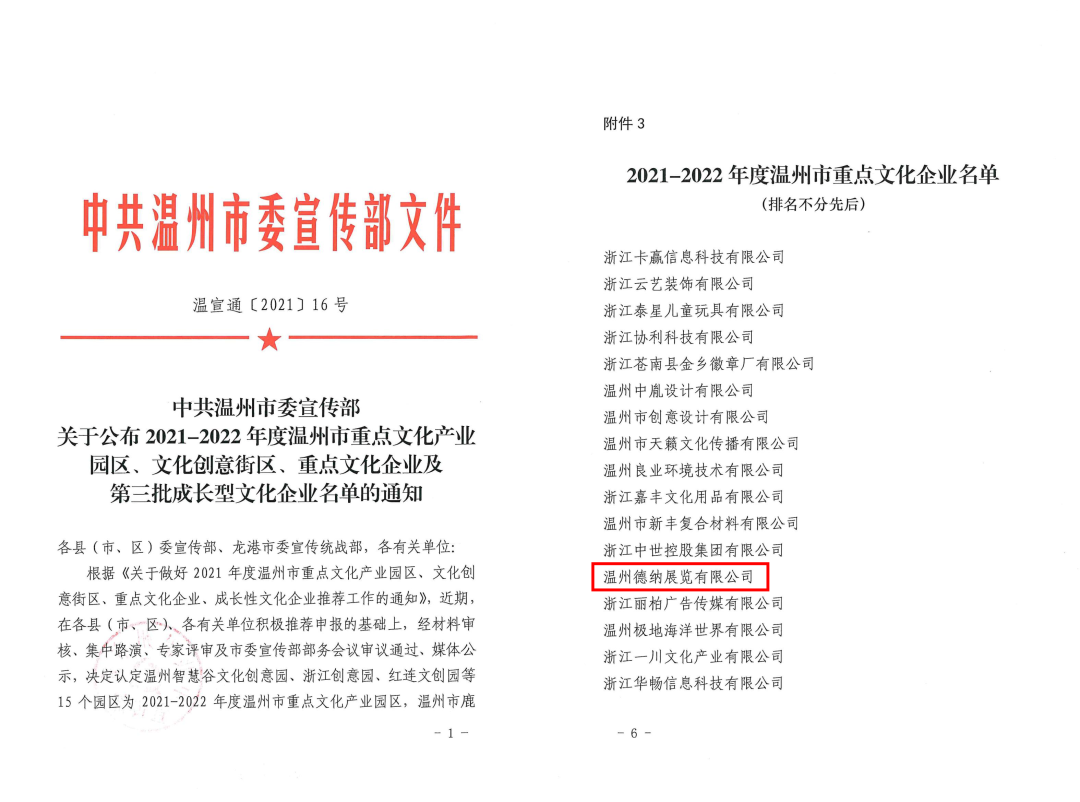 In recent years, Donnor Exhibition insists on the internationalization strategy of "going out and bringing in" for professional exhibitions. Under the global publicity and promotion of the international business department, the number of foreign businessmen who came here out of admiration has doubled. The scale, popularity and transaction volume of the exhibitions held in recent years have increased with growing influence.The exhibitions held by Donnor Exhibition have become an important platform for trading and exhibiting cultural industry in Wenzhou and even Zhejiang.
Donnor Exhibition organizes more than 20 professional exhibitions every year in China, with a total exhibition area of nearly 400,000 square meters. It covers fitness equipment, swimming equipment, building materials, leather and shoe-making technical equipment, machinery and industrial automation, optics, hardware locks, automobiles, advertising equipment, printing and packaging, lighting, electricity, pumps and valves, e-sports, animation and other professional fields. Among them, Wenzhou International Optics Fair, China, China (Wenzhou) International Leather, Shoe Material & Shoe Machinery Fair, China (Wenzhou) International Industry Expo, China (Shanghai) International Health, Wellness, Fitness Expo and Chengdu Advertising And Sign Industry Expo have all passed the UFI international certification.
Recently, Wenzhou Donnor Acgn Co., Ltd., a subsidiary of Donnor Exhibition in the animation field, was formally established. Wenzhou Donnor Acgn Co., Ltd. is a team with many years of professional exhibition experience, implementing mainstream value and taking cross-dimensional culture as the production core. The enterprise is committed to the development of planning animation theme exhibition, IP incubation, adapting stage plays, artist incubation, and self-media promotion. With the arrival of big data era, the younger marketing model, good community operation and healthy ecological content construction make the brand users have the characteristics of high activity and high stickiness, and the brand influence is also increasing day by day. Up to now, the exhibition scope has been expanded to southern Zhejiang, northern Zhejiang, northern Fujian, Shanghai and other regions.
In the future, Donnor Exhibition will continue to expand new service areas, continue to deepen its efforts on the road of globalization and omni-channelization to create a "one-stop" multi-domain international trade service platform.